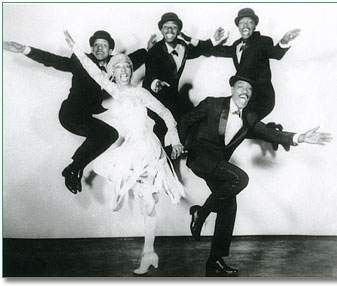 Norma Miller
1919-2019
The world lost its Queen of Swing on May 5, 2019.
This site is dedicated to her memory, and to the dance she loved: Lindy Hop!

Known to many as the Queen of Swing, Norma Miller was an author, choreographer, dancer, comedian and actor whose career spanned over seven decades. Discovered at the age of twelve by the Savoy Ballroom's legendary dancer Twist Mouth George, Ms. Miller was been in show business ever since.

Honored with a 2003 National Heritage Foundation Fellowship from the National Endowments of the Arts for her role in creating and continuing to preserve "the acrobatic style swing dance, known as the Lindy Hop," Ms. Miller was an inspiration to all who knew her.

Ms. Miller's energy continues to amaze. She published her fourth book, "Me & John Biffar", along with writing several songs, including "The Big Apple", her valentine to her hometown of New York, which she composed and wrote with Frank Owens.

Ms. Miller was also the subject of author and historian Al Governor's children's book, "Stompin at the Savoy". Illustrated by Martin French, the book tells the story of her childhood in Harlem and takes readers to Paris, Rio and Hollywood as a teenage Norma travels the world dancing with Whitey's Lindy Hoppers.

Florida filmmaker John Biffar completed a 72 minute documentary in 2006, "Queen of Swing" (view the trailer.) Narrated by Bill Cobbs, Queen of Swing takes an inside look at Norma Miller's influence in the globalization of America's jazz culture and her and her fellow artist's role in racial integration. The documentary features interviews with Bill Cosby, Bill Cobbs, Frankie Manning, Phoebe Jacobs and Leonard Reed.

Norma continued to travel throughout the year, making appearances at a number of Swing Dance festivals and Jazz events around the world. In addition to teaching master classes, Norma also performed her comedy act and screened the "Queen of Swing" documentary.
We lost Norma on May 5, 2019, just a few months shy of her 100th birthday. To the end, she was inspiring, cantankerous, loving and loved.

For more information on John Biffar's documentary, "Queen of Swing", please contact Dreamtime Entertainment by phone at 239-549-4081 or via Email at John@DreamtimeEntertainment.com.