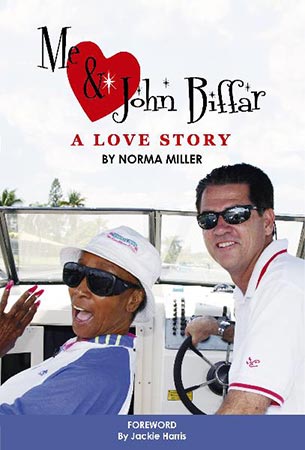 Me & John Biffar: A Love Story

Well, it's here! Norma Miller's long awaited book about the coming together of two very special people...kindred spirits, if you will. John Biffar, the filmmaker, at age 40, met Norma Miller, the 75 year old, Harlem born Lindy Hop and Swing dancer of the golden era. It is a friendship that all the good in life is made of. A bond that can't be broken and a love and respect that many never find. This book is about visions and adventures which has taken them across the globe as they perform their duty to share inspiring, life-giving legacies of love with the world, and for each other, through their unique, individual giftedness. It has been eighteen years since their first meeting and their many tireless contributions to life have been endlessly inspiring, heartwarming, and at times hilarious. A pairing like this is what dreams are made of...and what a refreshing, unlikely pair! True friendship has no boundaries – Norma and John are living proof of it.
Purchase it now at blurb.com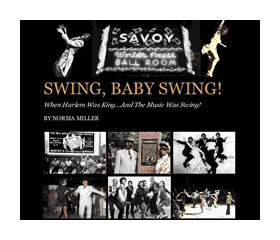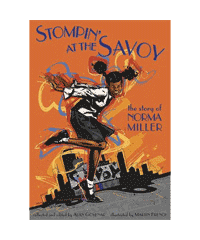 Swing, Baby Swing!
Purchase your copy of Norma's newest book, Swing, Baby Swing!, chronicling the evolution of the swing culture into the 21st Century. Further details are at www.SwingBabySwing.net.


Stompin at the Savoy

Author Al Governor pays a tribute to Norma Miller in this wonderful children's book. Illustrated by Martin French, this fascinating book tells the story of Miller's amazing life story.


Swinging at the Savoy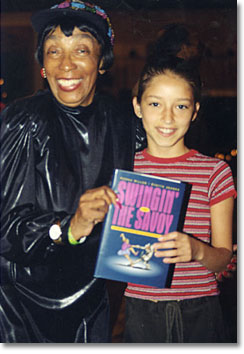 Dancer, award-winning choreographer, show producer, stand-up comedienne, TV/film actress and author, Norma Miller shares her touching historical memoir of Harlem's legendary Savoy Ballroom and the phenomenal music and dance craze that "spread the power of Swing across the world like Wildfire."

It was a time when the music was Swing, and Harlem was king. Renowned as 'the world's most beautiful ballroom" and the largest, most elegant in Harlem, the Savoy was the only ballroom not segregated when it opened in 1926. The Savoy hosted the best bands and attracted the best dancers by offering the challenge of fierce competition. White people traveled uptown to learn exciting new dance styles. A dance contest winner by fourteen, Norma Miller became a member of Herbert White's world-famous Lindy Hoppers and a celebrated Savoy Ballroom Lindy Hop champion.

Swingin' at the Savoy chronicles a significant period in American cultural history and race relations, as it glorifies the popularized home of the Lindy Hop, and the birthplace of such memorable dance fads as the Big Apple, Shag, Truckin', Peckin', Susie Q, Charleston, Peabody, Black Bottom, Cake Walk, Boogie Woogie, Shimmy, and tap dancing.

Miller shares fascinating anecdotes about her youthful encounters with many of the greatest jazz legends in music history including Ella Fitzgerald, Count Basie, Benny Goodman, Billie Holiday, Artie Shaw, Duke Ellington, Ethel Waters, and even boxer Joe Louis. – Amazon.com Review