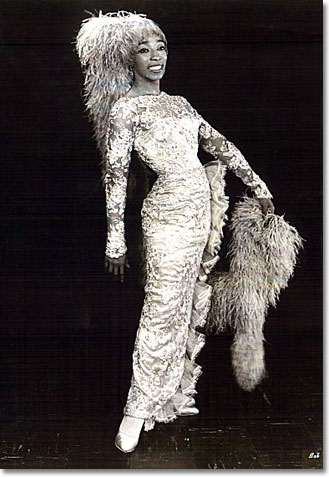 Known to many as the Queen of Swing, Norma Miller is an author, choreographer, dancer, comedian and actor whose career spans over seven decades. Discovered at the age of twelve by the Savoy Ballroom's legendary dancer Twist Mouth George, Ms. Miller has been in show business ever since.
Honored with a 2003 National Heritage Foundation Fellowship from the National Endowments of the Arts for her role in creating and continuing to preserve "the acrobatic style swing dance, known as the Lindy Hop," Ms. Miller (at a young 85 years of age) continues to be an inspiration to all who know her.
"The NEA's National Heritage Award is a great honor," says Ms. Miller. "It has put me on track to become a film producer and I intend this one should be just the first of many." Norma Miller's future projects will also be drawn from her swing dance experiences and, as she likes to say: "If you don't dig swing - you don't dig fried chicken!"
The author of several books, Ms. Miller's latest book, Swing Baby Swing, chronicles the evolution of the swing culture into the 21st century. Ms. Miller's biography, Swingin' at the Savoy: A Memoir of a Jazz Dancer, recollects her youthful encounters with Ella Fitzgerald, Count Basie, Duke Ellington, Billie Holiday, Benny Goodman, Artie Shaw, Ethel Waters and other jazz legends.
Ms. Miller has also been the subject of many documentaries including National Geographic's Jitterbug (1991) and the Smithsonian Jazz series on NPR. In Ken Burn's documentary Jazz (2001), her recollections provide a first hand account of the Harlem music and dance scene in the 1930s and 40s. Ms. Miller's film credits include the Marx Brother's A Day at the Races (1937) and Hellzapoppin (1941); Spike Lee's Malcolm X (1992); Debbie Allen's Stompin' at the Savoy (1992) and John Biffar's Captiva (1995.) In the sixties, she began working with Redd Foxx at his comedy club and later joined him on the 1970's television series, Sanford and Son, serving as a stand up comic, actor and choreographer.
A 72 minute documentary, Queen of Swing, by Florida filmmaker John Biffar, takes an inside look at Norma Miller's influence in the globalization of America's jazz culture and her and her fellow artist's role in racial integration; and features interviews with Bill Cosby and the late Leonard Reed.